A vehicle wrap is an investment and like any investment you want it to last and stay valuable. Once it is installed it is not something that can just be forgotten about, it needs regular maintenance and cleanings like a custom paint job would. The best way to preserve your vehicle wrap is by cleaning it appropriately and being mindful of cleaners and tools you are using. We have highlighted some common mistakes made when having a vehicle wrapped and included tips to help protect your new investment.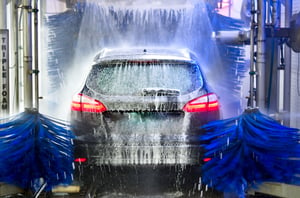 1.) Using abrasive brushes when cleaning - Brush style car washes or abrasive cleaning supplies cause the film edges to lift, crack, or can cause a dulling appearance over time.
Instead of using a brush style car wash, hand wash with a non-abrasive detergent and a clean soft sponge or cloth to keep your vehicle wrap clean. Follow with waterless cleaner. Waterless wash products can help maintain the gloss level and performance of the film. Be sure to wash your vehicle regularly, about every two weeks.
2.) Power washing at an angle of your graphics - When power washing, be mindful of the angle that you are spraying the water on your vehicle. Keep the nozzle perpendicular and at least 1 foot away from the graphics, hitting the wrap at the wrong angle can cause it to lift or tear.
Although power washing is acceptable, the #1 preferred method of cleaning your vehicle wraps is hand washing. When it comes to hard to remove contaminates, we recommend soaking stains for a few minutes in very warm, soapy water with a soft cloth to soften up the residue. Follow this up with hand washing or power washing at least 1 foot away from the graphics. Tricky contaminates can be difficult to remove and sometimes will require a more detailed approach to removing the residue.
3.) Using unapproved cleaning supplies -Using incorrect cleaning supplies can have adverse effects on your vehicle wraps. Cleaning substances on the not approved list include: solvents, oil based cleaners, kitchen & bathroom cleaners, oven cleaners, Orange Oil and engine degreaser.
The VMS Install team recommends Shining Monkey cleaner and the Supreme Wrap Care lines of cleaning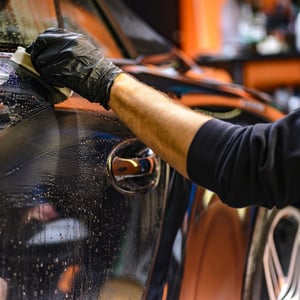 products. Be sure the cleaning detergent you use has a pH balance between 6 and 9.
4.) Using water that exceeds 140° - Using water that is hotter than 140° will cause the vinyl of the vehicle wrap to bubble and lift up.
Being cautious of all the elements you are subjecting your wrap to is important to protecting the look of your vehicle wrap. Store your vehicle in a garage or car port to prolong the life of your vehicle wrap. The surfaces that are most vulnerable are the horizontal surfaces such as the hood, trunk, and roof.
REMEMBER: Infrequent or improper maintenance can lead to premature degradation of graphics and lower the expected life of the film. Download the Caring For Your Vehicle Wrap guide now!
Caring for your vehicle wraps whether it is a full wrap, a partial wrap or spot graphics, is an essential part to determining the longevity of your vehicle wrap investment. In fact, caring for your newly wrapped vehicle is not any harder than caring for a non-wrapped vehicle. Regularly cleaning your wrap, being mindful of the tools and environment you subject it to will not only help keep the wrap looking great for the long run, it is also a sign of your pride in your vehicle—and in turn, your company.
When you order a vehicle wrap from Visual Marking Systems, the PDAA certified installation team provides you with all of the necessary information to keep your wrap looking as good as it does when it leaves our facility. For any questions be sure to give us a call at:1-800-321-1496—ask to speak with a member of our Fleet team.