Advertising with reflective vinyl on your fleet vehicles can help you promote your brand at all hours of the day, even in the dark! VMS carries lots of vinyl options to wrap your vehicles and can help you determine which option best fits your needs.
One of the benefits of reflective vinyl is durability as most reflective wraps can last up to seven years. Reflective materials may cost about 20% more upfront, but in the long run are more cost-effective because they last longer and can be seen at nighttime, resulting in more impressions.
Another benefit of reflective wraps is safety. Most film suppliers recommend reflective graphics to make it easier to see vehicles at a distance at night and during inclement weather like rain and snow. According to our vinyl supplier 3M, one way to use reflective graphics on a budget is to add conspicuity markings (contour markings). In the United States, truck collisions fell 58% after conspicuity markings were introduced, according to a study by 3M. The key is that reflective material bounces light back to the driver of a passing vehicle, which provides important information for staying safe on the road.
Compared to other materials, Arlon Graphics recommends additional care for reflective wraps. If not handled properly during installation, reflective films can experience bruising. Some ways that the material can be mishandled include stretching or creasing the film. In order to avoid bruising and get the best result while using the reflective film, Arlon experts recommend handling the film with care, planning out the wrap beforehand, adding heat if the film sticks to itself, and investing in a quality film to start.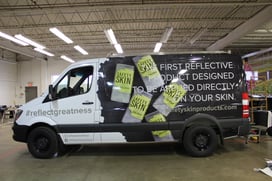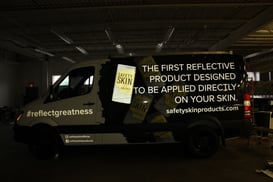 Vehicle wraps provide limitless opportunities to make your fleet stand out, and reflective films offer even more options. Graphics can be designed to fit vehicles of any type and size. However, there are a few standard wrap options to choose from, including full and partial wraps, vehicle graphic lettering and numbers, specialty color-change wraps, and now even reflective signage that conveys your brand's message day and night.
If you are interested in learning more about reflective vehicle wraps and graphics or would like to talk about your specific project, reach out via email at info@vmsinc.com or call us today at 800-321-1496.