Every year since 1972, the Twinsburg Chamber of Commerce recognizes a member of the business community who has made an outstanding contribution to their business and to Twinsburg, making it a better place to live and work. The Business Person of the Year is described as someone who:
Gives of themselves, more than what is expected

Is available and reliable when help is needed

Displays true concern and pride in our community and its people

Has made an extraordinary contribution to the leadership of their business in terms of growth and prominence in their field

Is involved with the Twinsburg Chamber of Commerce (through membership, volunteerism, serving on a committee, etc.)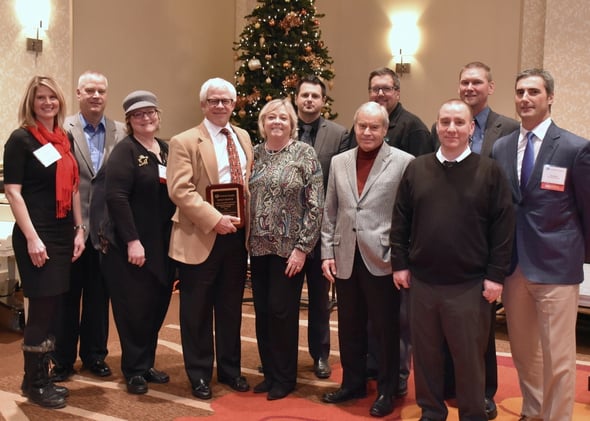 Nearly 35 years ago, Dolf Kahle had what he describes as "the most incredible opportunity" when, together with his father he purchased a small screen-printing company with one printing press. Over the last three and a half decades, he has grown the business to 20 printing presses and has become more than just a screen printer. Visual Marking Systems (VMS) has become a print provider that supplies high-quality product identification solutions for equipment manufacturers, public transit authorities and fleet vehicle wraps, as well as nameplates and decals for use on products in industrial, medical, agricultural, retail and consumable products, and many more industrial applications where labels and decals are required for product identification, operating instructions and safety warnings.
Dolf joined the Twinsburg Chamber of Commerce in 1994 and Visual Marking Systems has been an outstanding partner supporting events such as the Chamber's annual Golf Outing and the Community Clambake for many years. VMS has produced signage and vehicle wraps for a number of local businesses and non-profit organizations, including Twinsburg Parks & Recreation, Habitat for Humanity, Twinsburg Police and Fire Departments, the Twinsburg Public Library, Great Expectations Show Choir, and the Twinsburg Athletic Boosters, just to name a few.
Dolf has been married to his wife, Marilyn for 33 years and they have been residents of Solon since 1983, where they raised their three grown children, Dr. Megan Bauer, Krista Kahle and Eric Kahle. In his spare time, Dolf enjoys traveling and spending time with his family, playing golf, skiing, walking/running and mentoring the next generation of business leaders.
Visual Marking Systems is proud to announce that CEO, Dolf Kahle has been named the 2016 Business Person of the Year by the Twinsburg Chamber of Commerce.
Read more about the award here in an article published by the Twinsburg Bulletin.