Did you know that VMS is the premier vehicle wrap installation and removal service provider in northeast Ohio?
There are a lot of unknowns when it comes to removing an old vehicle wrap. Things to consider include the age of the wrap, type of material and adhesive that was used when the wrap was applied and whether or not there is any rust or damage to the vehicle. So, what is the easiest way to remove a vinyl wrap from your vehicle?
The professional PDAA Master Certified Technicians at Visual Marking Systems are specialists in determining the best removal process for our vehicle wrap customers. In fact, our experts can provide turn-key services and solutions for vehicle inspection, estimating, and graphic design in addition to wrap installation and removal of fleet graphics and vehicle wraps.
Visual Marking Systems offers year-round, low-cost professional removal and installation of vinyl vehicle wraps for your fleet with quick turnaround times with our exclusive Vinyl Removal System. If you're familiar with the labor-intensive process of wrap removal that used to take days, you'll be amazed at how easily our system removes vinyl, often without leaving a residue behind.
With the addition in 2011 of our 8,000 square foot installation and removal facility in Twinsburg, Ohio, VMS expanded its capabilities to deliver the highest quality application process for in-house vehicle wrapping and removal to accommodate vehicles and trailers up to 54 feet.
VMS even offers on-site wrap removal with our mobile Vinyl Removal System, which serves the greater Cleveland and surrounding areas—including locations in Indiana, Michigan, Kentucky, New York, Pennsylvania, West Virginia and of course, Ohio.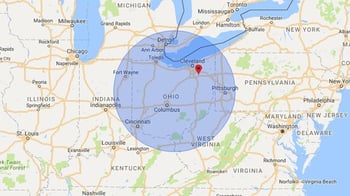 From concept through design implementation, all the way to installation, VMS has professionally wrapped thousands of vehicles and no job is too big or too small. Whether you're wrapping your personal car or an entire business fleet, VMS is a one-stop shop for your vehicle wrap needs. Customers including Enterprise Rental Truck, FedEx, Mobil, Farmers Insurance and Davey Tree have turned to VMS for innovative solutions for their vehicle branding needs because of our personal, professional and unparalleled design and customer service.
VMS is committed to providing the highest level of customer service to businesses that need a team of creative and professional individuals to enhance the appearance of their vehicles by using vehicle wraps and fleet graphics.
Let VMS provide a solution to your vehicle wrap installation and removal needs. Request a free quote today!