Asiha Ross is a Graphic Artist for VMS
Describe your role at VMS and how long have you worked here?
I am a Graphic Artist and I have been here for 2 years. I work mainly with the Fleet Department in preparing artwork for production.

What types of challenges do you see our customers face & how do you help them?
I see that customers need a hand in making their artwork perfect for print and I hope to help them out where I can.
What is your favorite thing about VMS?
My favorite thing about VMS is all of the different services and graphic solutions we offer. Walking around the office and manufacturing floor you can see something new everyday.
What is a fun or unique fact about yourself?
A fun fact about myself is I cannot do the Spock sign with my hands.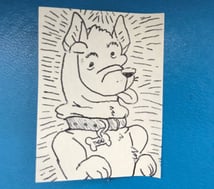 What do you like to do in your free time?
In my free time I like to make art and play video games.

If you could meet anyone, living or dead, who would you meet?
Betty White.
Where is the best place you've traveled to and why?
The best place I've traveled to was Los Angeles; it was cool to see some of the landmarks that you always see on TV. I can't wait to go back.
Who inspires you?
My dad; he always stays positive no matter how hard things get.
What is your favorite memory?
My favorite memory is getting engaged.
Do you have any pets?
My elderly dog, Max and my fiance's dog, Murphy.
What kind of music do you like?
Mostly Indie Rock, hip hop, and pop. It depends on my mood, of course.