Because we believe in giving back to our community, Visual Marking Systems (VMS) recently partnered with Habitat for Humanity and area businesses to bring assistance and hope to local families in the greater Cleveland area. When four homes were slated for construction to benefit families in need, we envisioned a unique way that we could help.
When a family moves into their new home through the Habitat program, they often bring very little with them. Sometimes children are forced to leave their most beloved items behind when they move, so our staff worked to provide something special for the children when they arrived in their new home.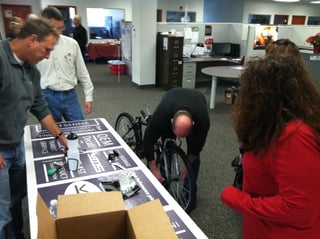 VMS partnered with several businesses including 3M, Sabic, Laird and Kapco for a "Bicycle Build" to help provide bicycles for each of the four families that would be receiving a new home from Habitat. Each company gave generous donations toward material costs for the program, and then the team at VMS rolled up our sleeves and got to work. Building the bikes ourselves was an ideal way to enhance this experience and was also a great opportunity to promote team building. Because VMS staff members generously donated their time to work together to build these bicycles, it had a much greater impact.
One fortunate family was the Jones family of Twinsburg, Ohio. Just in time for the holidays, the VMS team joined Habitat for Humanity staff and volunteers in welcoming them to their new home, and surprised their daughter with a brand new bicycle.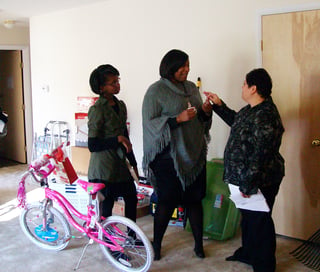 Giving back to our community in such a meaningful way has been profoundly rewarding. Working side-by- side on a mission of kindness truly inspired our team. It cultivated a sense of camaraderie and teamwork that has continued paying dividends long after everyone settled back in at the office.