Visual Marking Systems (VMS) is a versatile partner in promoting your brand. From OEM equipment decals and fleet wraps to wide format graphics, VMS offers a wide range of printed graphics services. Did you know that VMS also provides custom apparel and promotional products? By partnering with VMS, you can ensure consistency across all your branding efforts, from corporate apparel to employee rewards and customer gifts. Trust VMS to protect your brand and help you stand out against the competition.
Why Is Brand Consistency Important?
Consistency is key when it comes to establishing trust and recognition for your brand. By ensuring that your branding is accurately represented across all marketing materials, you can avoid confusion and build a strong reputation with your customers and prospects. However, working with multiple graphics providers can put that consistency at risk. In this post, we'll explore how to preserve your brand's integrity when investing in custom apparel and promotional products.
1. Create and Use a Brand Style Guide
A brand style guide is a comprehensive document that outlines the visual and messaging guidelines for your brand. It serves as a roadmap for how your brand should be presented across all marketing channels, including printed graphics, digital media, and promotional products. By following these rules, you can ensure that your brand is communicated consistently and effectively, no matter where your customers encounter it. A well-crafted brand style guide can also help to build trust and loyalty with your audience, by presenting a cohesive and professional image. The guide typically includes information on your company's core values, mission statement, and target audience and guidelines for the following:
Logo
Color palette
Voice
Imagery
Typography
Once your brand style guide is established, make sure to share it with all members of your team so that it can be applied consistently across all marketing efforts, including sales and operations. It is crucial to use a brand style guide when ordering custom apparel and promotional products to ensure that your logo is presented consistently and accurately, with the correct colors and fonts. Be sure to provide this guide to your chosen promotional products supplier to maintain brand integrity.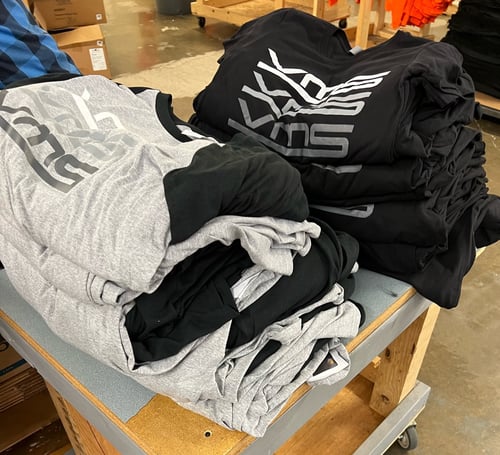 2. Find a Trusted Supplier
It's important to find and build a relationship with an apparel and promotional product and supplier you can trust. It's even better if you can find a single-source supplier for all your custom-printed graphic needs. When you start to build this relationship, you'll work with experienced professionals who can learn about your business goals and recommend the custom-printed graphics that will help you achieve them. A strong supplier will have a design department that will work hand in hand with you to come up with designs that will help your brand stand out. They'll also become familiar with your brand style guide and be able to quickly recognize any inconsistencies, ensuring your brand is accurately represented on all your printed products . VMS has six full-time graphic designers on staff and can help with logo and concept design so you don't have to outsource it.
3. Use an Ecommerce Website
In today's digital world, ecommerce websites are the norm. Purchasing custom apparel and promotional products is no different. An ecommerce hosted site streamlines the promotional products process by providing access to a product database, design and customization tools, a supplier network, order management tools and customer support. Work with your supplier to create a personalized ecommerce site around your brand style guide, logo and colors. This allows you to rest assured that your supplier has the necessary information to create consistent, high-quality branded apparel and promotional items that you'll be proud to have your employees and customers wear — while protecting your brand in the process.
Using VMS's brand-new ecommerce site, you can easily navigate the apparel and promotional product selection process by:
Shopping for merchandise by brand, style, type and price range.
Customizing your choice of products according to color, size and design options.
Receiving complete support, printing and delivery of your finished products.
Our streamlined ecommerce site gives you flexibility and saves time. Search our selections on your own or we can source products for you.
Finding a Reliable Printed Graphics Provider
Now that you know a few of the ways to maintain brand consistency when ordering branded apparel and promotional products, you'll want to find a reliable printed graphics provider who can design, source and print your custom products. That's where VMS comes in. Many people know us for our OEM graphic overlays, labels & decals and fleet wraps & vehicle graphics. We also offer an extensive line of branded apparel and promotional products using top-quality suppliers and state-of-the-art equipment to produce products that are durable, attractive and long-lasting.
Common custom apparel and promotional products we provide for businesses include: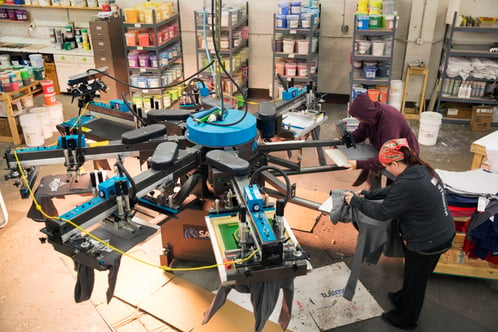 Experience
VMS has been in the business of branding products, vehicles, people and buildings for more than 60 years. We have a team of experienced professionals who can help you source the best products and processes to fit your needs and budget. We can decorate any garment or product with:
Embroidery

Screen printing

Heat transfer

Direct-to-garment printing

Direct-to-film printing

Adding custom apparel and promotional products into your branding mix is a great way to increase your exposure and maintain consistency across all channels. We'd love to work with you to create custom graphics for your apparel and promotional needs.