The VMS team recently attended the educational, instructive, and always enjoyable Archery Trade Association (ATA) Trade Show in Indianapolis. As the archery and bowhunting industry's largest show, our team enjoyed the opportunity to catch up with customers as well as meet new people and see the latest innovations on the market. We're excited to offer a variety of archery decals, tags, and limb decorating options to manufacturers. Sometimes it's hard to know which material is best, so leave the problem solving to us! Just explain your project, how you'd like the finished product to look, and any challenges you may be aware of, and we'll do all the heavy lifting.
Hydrographics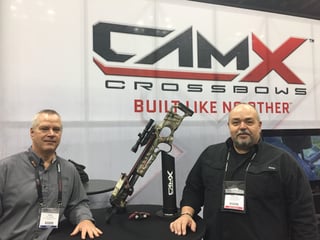 Hydrographics may be referred to as "hydro dipping" or "water transfer printing" within the industry, but it's all the same thing. This method allows printed material to be applied to an object that is three dimensional and is common in the archery and bowhunting industries. Hydrographic ink is durable and designs like camouflage can be achieved using this printing process. However, with hydrographics, we recommend taking an additional step to protect the graphics by applying a clear, protective coating over the finished product. Once this is done, text cannot be applied over it.

Color Fusing
Color fusing (also referred to as dye sublimation), is the printing method of permanently fusing (printing) color, in the form of ink/dye, onto the product through the transfer of heat. Any digital image can be used to transfer onto the product. The process of color fusing creates a covering that maintains scratch resistant surface. However, one thing to keep in mind when using color fusing materials (virtually all inks) when applying decals to crossbows and bowhunting equipment is that the color may fade over time.
Direct Printing - A Proven Technique
One preferred method is through a process called Direct Printing. One huge differentiator between Visual Marking Systems and our competition is our ability to apply text or a logo together with the camouflage or background color, which creates a finished product with crisp and legible graphics. We accomplish this using direct printing, which means there are no additional decals to adhere to the crossbow limbs. The use of additional decals can be costly and, from our experience, they are less durable over time. The direct printing technique also withstands extreme weather and harsh conditions often experienced in outdoor environments. We pride ourselves on making parts that our customers proudly display on their products, whether a decal or a direct-printed design, to help your products stand up to your competition. Through rigorous trial and error, we have developed a proven technique using direct printing methods for archery, bowhunting and sporting equipment manufacturers.
Read a product review of the CamX X330 crossbow in Arrow Trade Magazine.
There are so many ways to decorate archery and crossbow equipment and a variety of materials and methods that can be used. If you're not sure what will work best for your application, let us know, we'd be glad to take the time to understand your unique products and how we can best partner with you. Request more information about Visual Marking Systems' custom-printing solutions for the Archery Industry by clicking below: