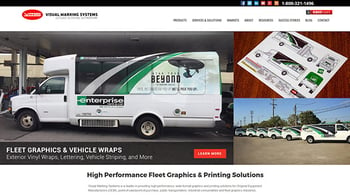 Visual Marking Systems (VMS) invites visitors to explore their new website which has been designed to provide the ultimate user-friendly experience. With easy to use navigation and improved functionality throughout, the new website allows easy access to detailed product information, services, and resources.
VMS, located in Twinsburg, Ohio, is excited to announce the launch of their new website. The company, which specializes in custom product identification for original equipment manufacturers, fleet vehicle wraps, public transportation decals, consumable labels, and POP retail display graphics, hopes the new site will further elevate their online presence. The new website features the company's product line of durable, high-quality product identification and design services, as well as access to helpful information for customers.
VMS collaborated with Page One Web Solutions, a web design and marketing firm located in Portland, Maine, for the redesign of the website. The new design has improved the site's functionality as well as overall user experience, allowing VMS to help visitors understand the complete range of custom labels and graphics available to them.
Created with an emphasis on user experience in mind, the attractive website has been designed using the latest technology, making the site responsive and compatible with today's browsers and mobile devices. "The steady increase of mobile traffic to our site in recent years has made responsive design a requirement, rather than a preference. Our new website was designed utilizing the latest technology, allowing visitors to seamlessly access the site, not only on their desktop computers, but on their smartphones and tablets." says VMS CEO, Dolf Kahle. Kahle continues to express enthusiasm for the new website's capabilities by saying, "Our customers now have access to product information and resources wherever they are and whenever they need it."
The flexibility of the responsive site allows VMS to do what they do best: work hand in hand with customers to create high-quality graphics, and provide friendly customer service from their knowledgeable team. The main objective of the site is to provide access to custom graphic product offerings for prospective customers and supply them with informative resources to help enhance their understanding of the products, services and materials offered by VMS.

In business for more than 50 years, VMS is an industry leader in the design and production of colorful and attractive wide-format graphics serving the original equipment manufacturing (OEM), public transportation, POP retail display, industrial consumables and fleet graphics industries. VMS serves customers throughout North America, offering a complete line of quality products and unmatched service. To learn more about VMS, check out our new blog section blog.vmsinc.com/blog visit our website https://www.vmsinc.com or call 1-800-321-1496.