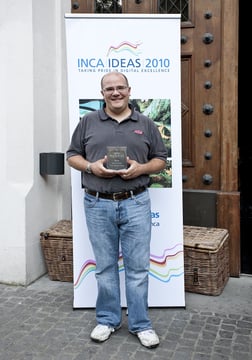 (Twinsburg, Ohio) -- Visual Marking Systems is pleased to announce that it has received an Inca Digital Excellence Award (IDEA) in the Product Decoration and Specialty Products category for printing Crossbows with a camouflage decoration and instructions on an Inca Spyder 320+w printer. The challenge in this category was to print quality graphics on surfaces that could endure extreme bending. VMS submitted a pair of Horton Crossbow limbs into the competition and received the award based on the product's quality, creativity and final delivery.
The IDEAs celebrate the creative and stunning effects and products produced by innovative companies around the world using Inca printers. The judges selected the winners from a very strong global line up of products and were looking for high-quality graphics that exceed expectations for creativity.
The standard of entries was extremely high with Inca printer users producing innovative products incorporating many different materials to meet customer's specific requirements. The flexibility of Inca UV digital printing enabled companies to produce stunning lenticular walls that come alive when you walk by, children's shoes and toys, cross bows, wood effect furniture, interior décor, urban art, displays, 3D POS products and more. Materials used ranged from re-board, acrylic, plastic, aluminium and leather to MDF, douglas fir and plywood.
"We are delighted by the number and quality of entries that showed the considerable potential for digital print," says Dr. Linda Bell, CEO, Inca Digital. "The sheer range of applications shows the ingenuity and creativity that can be achieved using the full range of our printers.
Since VMS' investment in UV flatbed digital printing technology, the company has been able to expand its printing capabilities to include directly printing onto products. This direct printing method was used on the Horton Crossbow limbs. With the INCA technology, VMS was able to provide consistent color, better detail, and a shorter lead time.
For more information about direct-to-product printing applications, contact VMS at 800-321-1496.