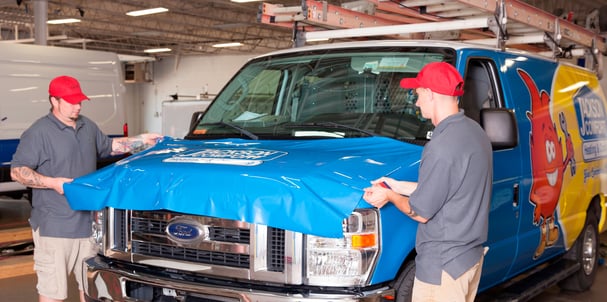 (Twinsburg, OH) -- Visual Marking Systems has long been a leader in the vehicle wrap and fleet graphics industry. With exceeding customer expectations as its primary goal, VMS announces the addition of an 8,000 square foot building which will house VMS' vehicle graphics installation and removal services for many fleet wrap and graphics customers including Panther Expedited Services, Davey Tree, Shearers Potato Chips, Mobil Oil, Fed Ex & Enterprise Rent a Truck.
Visual Marking Systems' new facility introduces Northeast Ohio to year-round Professional Decal Applicators Alliance (PDAA) Certified Installers who can provide professional installation and removal services for fleet graphics and vehicle wraps. The new facility is located at 2164 East Aurora Road, Twinsburg, OH, 44087. VMS is capable of installation & removal services for any size vehicle offering personal, professional and unparalleled design services to its customers.
"The addition of our second facility allows VMS to continue leading the vehicle graphics industry, while continually growing our existing accounts. The second facility aides in VMS' growth plans to expand its product and service offerings, including our Body Art by VMS and Premium Wraps by VMS vehicle graphics divisions, while enhancing our customers' experience" says Dolf Kahle, CEO of Visual Marking Systems.
VMS is committed to providing the highest level of customer service to businesses that need a team of creative and professional individuals to enhance the appearance of their vehicles with creative vehicle wraps and fleet graphics. VMS is dedicated to the PDAA community by offering the first full-turn key services and building in Northeast Ohio dedicated to the vehicle graphic market 12 months of the year.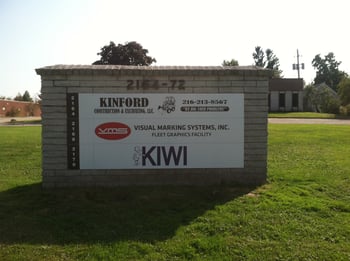 Advantages of the new building include:
Full turn-key services for: vehicle inspection, estimating, graphic design and wrap installation and removal.

Twelve-month sales cycle and ability to install and remove vehicle wraps and graphics year-round.

More than 8,000 square feet of space to accommodate vehicles and trailers up to 54 feet.

Improved customer experience and added benefits to allow increased capacity for larger vehicles.

Expansion of VMS' capabilities as part of their commitment to the Professional Decal Application Alliance (PDAA).
For more information about Visual Marking Systems' Vehicle Wrap Installation and Removal Services and facility contact us directly at 800-321-1496.