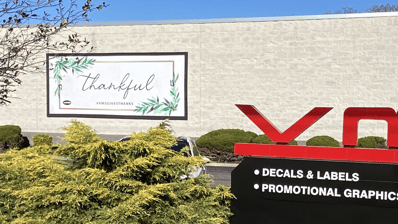 As we push through the final days of 2020, we started focusing on what we are thankful for throughout the craziness of the year. With the help of our employees and our business connections we successfully launched the #VMSGivesThanks campaign.
#VMSGivesThanks is our way of celebrating the good we have in our lives and sharing what we are thankful for. We are thankful for the heath and safety of our employees and their families; for our customers who have showed their faith and trust in VMS throughout this pandemic; for our vendors who have worked to keep our supply chain flowing; and for our community partners for doing everything they can to strengthen our community during these trying times.
We asked our employees and community partners to be a part of our campaign, by submitting pictures and videos or sharing on their own pages using the hashtag #VMSGivesThanks. The responses we received were heartfelt, meaningful, and really puts into perspective the fact that 2020 may have been a tumultuous year, but that we all have things we are truly thankful for.
Below is a compilation video of some of the responses we received.
Together, we're stronger—we know the relationships we have built with our customers and partners will keep us moving toward a brighter future.