Celebrating its 35th consecutive year, the Printing Impressions 400 provides the industry's most comprehensive listing of the leading printing companies in the United States and Canada ranked by annual sales volume.
Visual Marking Systems is excited to announce that we have been ranked 279 out of 400, compared to being ranked 295 the previous year! Rising in the ranks directly corresponds with our mission statement:
"Visual Marking Systems' mission is to manufacture high quality products with an innovative, aggressive and ethical approach that exceeds customer expectations, while promoting a positive, fun and satisfying experience for all members of our team. VMS will accomplish this mission through motivating and empowering our most valuable asset: our highly dedicated team of employees. Through self-motivation and continuous improvement, our employees will be knowledgeable, creative and professional individuals. In pursuit of our mission, VMS will continue to grow in size and profits as we reach our ultimate goal of customer satisfaction. All efforts are directed to that goal and we will celebrate our successes. We at VMS pride ourselves in making parts that our customers proudly display on their product".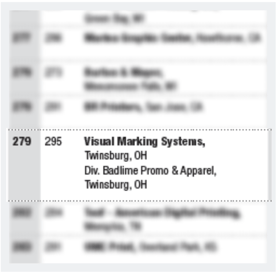 For more than 50 years, Visual Marking Systems has been leading the customized digital, screen and large format printing industry with high quality graphics that help businesses stand out from their competitors. By offering an extensive range of graphic design services and printing solutions for the original equipment manufacturing (OEM), corporate identity and branding, apparel and promotional products and fleet graphics industries, VMS is supporting the companies that fuel America's economy.