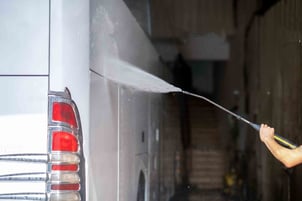 Caring for vehicle graphics and wraps is important to maintain their appearance. From regularly washing to avoiding abrasive brushes when cleaning, there are many ways to keep your fleet looking great after installation.
But what happens before vehicle graphics are bought and installed?
Getting your vehicle wrapped involves much more than dropping your vehicle off at a shop and waiting for the wrap to be placed. Before a vehicle wrap installation, there are some things you should do to prepare. Learn how to prep your fleet for vinyl wraps with these helpful tips.
Prepping a Vehicle for Being Wrapped
1. Have a Plan
Before you wrap your vehicle, you first need to decide on the type of wrap that will work best for your needs. There are many different types of vehicle wrap coverage options available, including:
| | |
| --- | --- |
| | Full wraps: These cover nearly all of the open surface area on a vehicle or trailer, offering ample opportunities for you to communicate your message using innovative, complex and visually appealing designs. |
| | Partial wraps: Also called half wraps, these wraps cover only a portion of a vehicle or trailer and typically focus on a company's logo and other primary branding elements. |
| | Spot graphics (lettering and numbering): These are commonly used in place of full or partial wraps to keep messages simple or to just show your company's name, website or phone number. |
| | Specialty color-change wraps: These wraps can change the look of your car by changing its color, providing a way for you to instantly upgrade the look of your car without the permanence of paint. |
2. Remove Imperfections
It's not recommended to wrap a vehicle with imperfections (i.e., paint scratches, dents, rust, etc.). Because of the way the vinyl film is applied, it will contour to the imperfections of the vehicle and will not last as long. Make the surface as close to perfect as possible.
Vinyl for vehicle wraps and graphics is designed specifically to be applied to vehicles and will stretch and mold to the various shapes and curves on a vehicle while hiding minor blemishes and imperfections on the vehicle's surface.
According to 3M and Avery Dennison, a wrap can last seven to 10 years on the vehicle depending on:
The quality of the vehicle wrap materials being used

The experience of the installer

If the vehicle is properly prepped prior to installation
3. Wash Your Vehicle
Prepping for a vinyl wrap installation includes making sure your vehicle is free of dust, mud, wax, oil, protective-type products and other agents that may prevent the vinyl from adhering to the vehicle surface during the installation process. The vehicle surface temperature must be at least 60 degrees Fahrenheit. If your vehicle is not cleaned prior to installation drop off, you may be charged a cleaning fee.
Getting Started With Your Vehicle Wrap
Now that you know how to prep a vehicle for a vinyl wrap, find a provider with the expertise to make beautiful, long-lasting vehicle graphics that are ready to face the rigors of the road for years.
Visual Marking Systems carries multiple vinyl material options including non-PVC vinyl, cut graphic vinyl and marine-grade vinyl, as well as both cast and calendered with varying levels of warranties from our premium vinyl suppliers.
VMS's team of professionally trained installers can handle the installation and removal of your vehicle graphic to make sure they last for years to come. VMS is a Professional Decal Applicators Alliance (PDAA) Master Certified installation company delivering the highest-quality assurance our industry has to offer. PDAA is a national organization of installers that partner to perform installations nationwide.
For more information about vinyl for a specific project, or to get started on your vehicle wrap, contact us today.