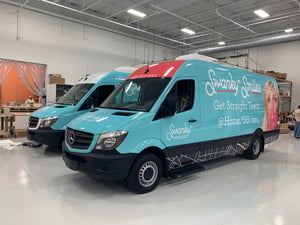 A fleet manager's job revolves around time and money. If you're considering custom vehicle wraps and fleet graphics, you need to know the ins and outs of the industry in order to choose the right graphic treatment and eliminate vehicle downtime.
You also need answers to critical questions, such as:
What impact do vehicle wraps and graphics have on a company's fleet?
What types of vehicle wraps and graphics are available?
How much do vehicle wraps and graphics cost?
How long do vehicle wraps and graphics last?
How do you choose the right supplier?
What Impact Do Vehicle Wraps and Graphics Have on a Company's Fleet?
You get the most bang for your buck when your fleet does double duty as moving billboards. Custom vehicle graphic treatments can target existing and potential customers with every mile driven. According to a study by RYP and Becker Group:
98% of people feel vehicle graphics create a positive image of the advertiser
97% of people can recall the ad from the side of a truck
96% of people think fleet graphics have more impact than billboards
Whether you want to wrap your entire vehicle or just create custom panels or spot graphic decals, the ROI and reach for vehicle wraps are unmatched.
What Types of Vehicle Wraps and Graphics Are Available?
Vehicle wraps provide limitless opportunities to make your fleet stand out. They can be designed to fit vehicles of any type and size. However, there are some standard product categories:
| | |
| --- | --- |
| | Full wraps: These wraps offer ample opportunities for you to communicate your message using innovative, complex and visually appealing designs. |
| | Partial wraps: Partial wrap designs are simpler than full wraps because less information is being communicated. |
| | Spot graphics: Spot graphics offer substantial cost savings compared to full or partial wraps. Letter and number shapes and sizes are often cut directly from a roll of pigmented (colored) vinyl. |
| | Specialty color-change wraps: Color-change wraps can transform your car and can be removed when you're ready for a new look and ready to sell. |
How Much Do Vehicle Wraps and Graphics Cost?
While the cost of vehicle wraps varies by project and vehicle, they remain a relatively affordable means of advertising, especially when you consider how many impressions each wrap makes over its lifetime. However, the key cost drivers are:
The complexity of the wrap design
How much material is required
The difficulty of installation (depends on the size and type of the vehicle)
Whether its installation also involves the removal of an existing wrap
Consider a professionally trained installer to ensure you get the most out of your investment.
How Long Do Vehicle Wraps and Graphics Last?
According to 3M and Avery Dennison, a wrap can last seven to 10 years on the vehicle depending on the quality of vehicle wrap materials being used, the experience of the installer and if the vehicle is properly prepped prior to installation.
How Do You Choose the Right Supplier?
Enhancing your business with fleet graphics and vehicle wraps is about more than just capturing great impressions—you want to ensure that you're capturing great impressions. Find a provider with the expertise to make beautiful, long-lasting vehicle wraps and graphics that are ready to face the rigors of the road for years. Be sure your fleet provider:
Offers a manufacturer's warranty on their products
Delivers vehicle wraps quickly and accurately
Can show examples of similar work they've done and provide testimonials from satisfied customers
Has the design and technical know-how to ensure flawless results
Why Visual Marking Systems?
For more than 60 years, VMS has specialized in the design, manufacturing, application and removal of high-quality graphics, including custom vehicle wraps.
Whether it's a partial or full vehicle wrap, our customized products are made using only the finest materials and highest-quality vinyl, perforated window film and overlaminate available. VMS's talented team of designers and highly skilled installers can create custom vehicle wraps that will engage your current customers and attract new ones.
In recent issues of Work Truck Magazine, VMS experts and customers shared helpful tips for fleet managers considering vehicle wraps and graphics. Read it here.